General, Contracting, Project, Management, Consulting, Mediation, Restoration, Reconstruction, Construction, Hotel, Hospitality, Industrial, Commercial, Residential, Health, Care, Dwelling, Property

About Us
New-Can Group Inc. is a Greater Toronto Area full solution general contracting company with over 25 years of experience in complete project management from start to finish.

New-Can Group was founded in 1992 as a general contracting company and since inception it started expanding and growing.
Since then, we renovated and build multi-family housing and commercial space's throughout Canada.
Beginning in 1993, the company began expanding its operations into the field of construction and renovation of senior retirement residences.
Our growth continued with expansion into the field of project and property management, property mediation, restoration and reconstruction field.

We offer our service in the Greater Toronto Area as well as other parts of Ontario.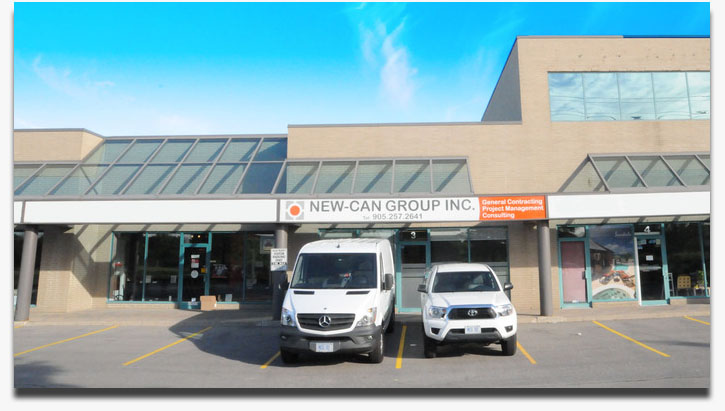 Today, we offer full range of services in the following areas:
Commercial
Condominium / Multi Dwelling
Health Care/Senior Housing
Hotel and Hospitality
Industrial
Residential
Reconstruction / Restoration / Mitigation Services


New-Can Group offers complete project management solution for every type of a project.
We work as a team with the owner, architect, engineer, professional trades and any other specialists required to complete your project on time and within a specified budget.

As a company we meet all of today's demanding construction needs ranging from day-to-day oversight of projects to full management responsibility and effective communication with clients and consultants.

Led by our site managers and supervisors, the construction team at New-Can Group applies efficient and transparent management philosophies, such as taking initiatives and constant communication, to get the job done in the fastest and most cost effective manner possible in order to meet our customers' budgets and schedules, quality and safety. Throughout a project's lifecycle, the talents of our New-Can Group team ensure that every completed project is unsurpassed in quality, functionality, and value.

Our estimates are provided in a timely manner depending the size and complexity of the project. On site estimates and consultations can be arranged.

Our proficient client-oriented administrative staff works diligently behind the scenes to expedite and complete the paperwork as efficiently as the project itself.

Equipped with a portfolio of over fifty professional and experienced sub trades, New-Can Group has the versatility and labour force to deliver consistent project execution from the start to completion, regardless of project size. We employ only top-quality professionals who meet our demanding professional standards and are committed to our objective of servicing our customers' needs. All of our employees and trades, have current WSIB coverage, are completely qualified, licenced (if required) and equipped with proper safety equipment.

Please also see our Corporate Health and Safety Policy Statement.

We are a fully licensed, bonded and insured service provider.


Liability insurance provided by Aviva

Surety (bonding) provided by Guarantee Company of America

Registered with Workplace Safety and Insurance Board (WSIB)

Licensed in City of Oakville

Licensed in City of Mississauga

Licensed in City of Toronto

We are also a member of:


FRPO - Federation of Rental-Housing Providers of Ontario.

IICRC - Institute of Inspection Cleaning and Restoration Certification - Certified Firm